www.thisfabtrek.com > life-before > australia-1997
Sydney to Alice Springs
After a conference in Sydney I hired a car and drove 5,000km via Broken Hill, the Flinders Ranges, Coober Pede, Uluru and Kata Tjuta and the Kings Canyon to Alice Springs. It was only shortly before that trip that I had bought my F70 and a couple of cheap lenses. I shot on cheap film and without knowing what I was doing. But I still like many of the pictures. I will have to revisit my archives at some stage and dig out more.
Well maybe I drove more kilometres then. I cannot remember. But I remember the spirit of traveling on my own in a this great country. And I will always want to return. Too much is there to be discovered and the vastness of the territory gives freedom a different meaning; that you can experience nowhere else.
All the way I read Bruce Chatwin's (wiki) "Songlines", a must-read for Australian starters. In Alice Springs I discovered Aboriginal Art, especially Emily Kame Kngwarreye and of course VB.
Note added later (Dec 2004): Re Bruce Chatwin: I recently finished reading the Songlines a second time and only now discovered what a great book it is in justifying my chosen live as a gipsy.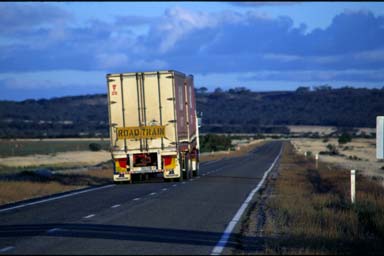 www.thisfabtrek.com > life-before > australia-1997