www.thisfabtrek.com > life-before > australia-2001
Darwin to Adelaide with Irene
Darwin to Adelaide, 8,000km in a bit more then 3 weeks. We did not drive straight down Stuart Highway like this truck but ventured left and right into Aboriginal Territories. Sometimes driving very bad roads with our Bush Camper that we had rented from Brits of Australia.
Having been to Australia in 1997 on my own I had been longing to get back and drive a 4x4 vehicle enabling me to go places I could not go then. Today I would say that it was during that trip that it finally clicked and that I decided to go one day on a long journey without having to worry about missing a flight back.
I especially recall one incident in South Australia, on Coffin Bay, a peninsula and nature reserve west of Port Lincoln on the Eyre peninsula, where Irene and I had just spent the night. Indian Ocean beaches stretched as far as the eye could see and us all alone on there. The only encounters we had were some some giant kangaroos and groups of emus crossing our path as we made it from the lagoon across the peninsula to the open ocean. After that one night and morning on the Indian Ocean all alone we returned via the path we had come the day before, driving finally back along the lagoon. We re met the same group of people and their sailing boats anchoring off the coast in the lagoon.
Now three things happened: These people actually confirmed that we had been the only vehicle driving along the beach the day before thus confirming that Irene and I were alone on the whole of the peninsula. What a feeling of wilderness having your peninsula for yourself? Secondly these very nice people invited us to stay, saying they expected more boats to rejoin for some annual reunion here in the lagoon at Coffin Bay. They had just brought ice from near-by town and just caught fresh fish. "Ask them if they want some fish," a guy shouted over several times from one of the boats. There would be a cool happening here in the lagoon, a good party for a couple of days.
My mind went crazy. We could drive to town, stock up with supplies, buy a few cases of wine to buy ourselves in and return and stay for a few more days.
But no, we could not! We had soon to make our flight back from Adelaide to our jobs in Frankfurt, to so-called civilisation. That was when I said to myself: "When I come back to Australia next time I will bring enough time to always be able to stay and never again have to worry about my flight back!" Maybe this was the first time that I knew that I would one day go on a long trip without the usual timely restrictions.
One final note on a fantastic book I read: "Tracks" by Robyn Davidson (wiki), who crossed half the Australian continent by foot, solo, accompanied by four camels and her dog. She tells the story of her 7-month, 1,700 miles long trip and gives great insides into the harsh outback conditions, her dealing with those, herself and the camels and her love for the Aboriginal people and the beauty of the desert.
And I reread Bruce Chatwin, - and finally understand, I have to go on a trip one day.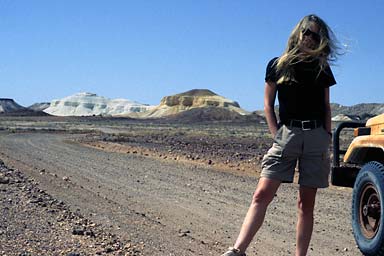 near Cooper Pede
Coffin Bay
www.thisfabtrek.com > life-before > australia-2001