www.thisfabtrek.com > journey > africa > cote-d-ivoire
Colors of the Cote d'Ivoire, June 2008.
Ivoirean Highlights.

Termite mound, Malian border region.

Yamoussoukro, Mosque.

Yamoussoukro, Basilica of our Lady Peace.

Girls on Grande Bassam beach, pinaples on their heads.
Beers
Apart from the usual Castel and Flag of West Africa, there is BOCK beer Solibras in 65cl bottles, or even 1l. I don't like it much. "Pour les hommes forts" it says in the ad. Cheap local brew.

Highlights. Images are linked to the story behind.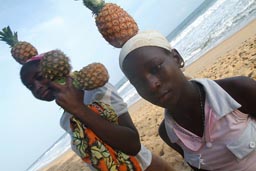 Cote-d-ivoire, Jun2008.
www.thisfabtrek.com > journey > africa > cote-d-ivoire