www.thisfabtrek.com > journey > africa > sierra-leone-liberia > 20080517-monrovia
Monrovia, the past civil wars in Liberia.
Map Journey to Monrovia, Liberia.
Joelle invites us to an open day to the EC-delegation house. Really this is our embassy. The European Commission house. A symbol of unity for all Europeans.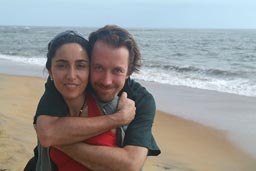 Angela, Chris, Monrovia.
And we feel proud, Angela she's Portuguese, Chris the Liberian born, English educated, now living in Portugal Frenchman and me (Austrian). This is our common embassy, as Europe had its unification process after hundreds of years of terrible wars. Wars in Europe must have killed more people then anywhere else in the world. Wouldn't it be too easy to just ask "Why should Africa be any different?"
I am in Monrovia (wiki) the city that just went through two decades of chaos and civil war that killed some 150,000 people, brought about mutilating, raping, beating, abduction and use of child soldiers, shelling and looting, displaced some 850,000 people internally and abroad, sent the countries economy spiralling backwards and destroyed most of its infrastructure. It is here in Monrovia where the scars of this period of terror are still so visible that a thought or two about the whys of the atrocity seem appropriate.
One last time let's go back to Europe. It had its times of racism, jingoism, its times of bad and weak leaderships, dictatorships, its wars and civil wars for ideological reasons, its wars for Reich building or just wars for better access to oceans, domination of a certain region and thus control of its resources.
Many of that we find in Africa still today. Racine comes in the form of tribalism, it is my kin, my family, my village, my tribe that's going to benefit first, others we try to exclude from access to power, seats in parliament, benefits. Or so goes the thinking. This was at times the case from Morocco and Egypt in all countries down to South Africa and is still today widely practised in many countries. Thus at the roots of conflicts.
Second comes bad or weak leadership. But this is changing in Africa NOW. Current good fellows who proved over a long period of time excellent leadership in their countries and positive influence on all of Africa include Mohammed VI (wiki) from Morocco, Thabo Mbeki (wiki) from South Africa. The list can certainly be extended. One has to be too careful who to count in, as politics is always dirty, not just in Africa.
Third it is deep corruption, run for control of resources and following personal kleptocratic enrichment. Some are not content with millions of dollars on personal accounts. For some it is a billion and more.
Short history of Liberia.
The fascinating horrific history of Liberia (wiki) and Sierra Leone (wiki) in tandem (and thanks to the Internet and foremost Wikipedia we can inform ourselves these days while on the road) reads like a novel, a murderous crimes book and unfathomable I wonder what hatred and greed must have driven the main actors to do what they have done. And we cannot deny some their initially noble motives. Also we cannot deny superpower involvement, that kept murderous people in power, overlooked rigging of elections, during cold war times and after. Or should we rather say external power involvement is at the heart of not just the History of Liberia (wiki).
Following the idea of the American Colonization Society: From 1822 onwards what is kown as Pepper Coast is colonized by formerly freed American slaves who settle the coastal areas around Monrovia. They are known as the Americo-Liberians (wiki). Many not even want to board the ships. Many die in the first month of tropical diseases and war with indigenous people. Over the years not more than 5000 would come, some 125 families that would represent the elite, not mingle much with the "backwardish" wilds.
True whig party (wiki) of Americo-Liberians dominates the country's politics for more then 100 years. Up to 1980 it never represents more then 5% of the population. The biggest scandal broke 1933 when an inquiry reveiled that in fact Liberia as the last country on earth engaged actively in slave trade.
William Tubman 1943 to 1971 (wiki), the freemason and autocrat presided over the "glory" years of Liberia, built a modern Liberia, carried out all infrastructure work that is still there today.
William Tolbert Jr. 1971 to 1980 (wiki), his successor, tried opening the ranks of the party, murdered (sliced up) by Doe in a bloody coup.
Samuel Doe 1980 to 1990 (wiki). His motives are initially noble, enjoys US backing, introduces multiparty constitution, but he does not get elected, rigs election results 1985, still holds on thanks to US backing, and cleanses through opponents' lines.
Charles Taylor is initially with Doe but Taylor had his own agenda. Breaking with Doe he takes refuge in the US, is imprisoned there, escapes from prison, some say because he receives high level (CIA) help (and the US Americo-Liberians) to overthrow Doe.
Charles Taylor (wiki) and Foday Sankoh (BBC) who would later lead the RUF rebels in Sierra Leone undergo guerrilla training in Libya, befriend Gadaffi (wiki). Taylor had friends in Houphouet-Boigny (wiki), president of then Cote d'Ivoire and Blaise Compaore (wiki) from Burkina Faso. So could use their ressources and territories.
First Liberian Civil War 1989 to 1996 (wiki): Charles Taylor entering from Ivory Coast and Prince Johnson (NPFL National Patriotic Front for Liberia) overrun the Doe regime in 1990. Prince Johnson (he holds a parliament seat today! BBC) oversees the torturing and killing of Doe. Brutal fighting along ethnic lines, many civilian casualties on both sides.
Mid 1990 Johnson breaks away with INPFL (Independent NPFL). A struggle for the control of the resources (iron ore, diamonds, timber, rubber) begins. Civil war along ethnic divides, UN and ECOWAS (Nigerian) troops involved, cease fires, peace agreements broken, unity governments, and resumption of fighting.
Finally elections 1997, Taylor elected with 75%, people vote for him just for the quiet, for fear he would resume fighting if lost.
Under Taylor's rule 1997 to 2003 Monrovia develops into a huge arms bazaar, everyone who plays by his rules is welcome (National Geographic 2003). Liberia supplied neighboring Sierra Leone's RUF leader Foday Sankoh with arms in return for diamonds. Al Qaeda operatives are harbored in the country after 9/11 attacks. Taylor himself becomes a very rich man.
Second Liberian civil war 1999 to 2003 (wiki) brings most of the destruction that is visible today. Fighting over Monrovia is particularly fierce. Taylor's government against 2 (new) rebel movements LURD and MODEL, Guinea, Sierra Leone and ECOWAS troops. Despite the signing of a peace agreement in Accra fighting in Monrovia only stops when it is announced over the radio that the US is about to come in and when US battleships take position off the coast. Only a small contingent of troops actually land in Monrovia while fierce Nigerian "peace keepers" as part of ECOWAS forces are being sent in. Taylor resigns under international pressure on August 11 2003 and is flown into Nigerian exile.
A long way to peace: Comprehensive peace agreement immediately after Taylor's resignation. Formation of transitional government and 15,000 UNMIL armed troops (UN Mission in Liberia) take over from ECOWAS by Oct 2003. UNMIL safeguard the peace, troops disarm 100.000 fighters from the various fractions till end of 2004. In the Liberian elections end of 2005 Ellen Johnson-Sirleaf (wiki), a former World Bank economist is declared winner making her the first democratically elected woman president in Africa.
Charles Taylor currently stands trial in The Hague on 11 counts of war crimes and crimes against humanity.
Suffering of people in this corner of the world over the last two decades had been shear immense.
In the end with the election of Ellen Johnson-Sirleaf as Africa's first elected women president it sounds like a success story. Some gain after so much pain.
The UN Mission in Liberia, UNMIL.
In Liberia I also see what a strong UN force (UNMIL) can do in first battling it out, then disarming, demobilizing, reconciling the various fractions, then policing a fragile situation, monitoring, searching, identifying, removing criminal elements. 15,000 international personal, armed troops (Pakistanis, Bangladeshis, many others) and police also unarmed police, uniformed and civil, from as far places as Bosnia, Turkey, Fiji. There are 48 troops contributing nations and 35 police contributing nations. And it has an impact. Their actions are not questioned.
Other tasks of UNMIL: voter registration and elections, working with UNHCR supporting returning refugees, road rebuilding, countless others concerning health, human rights issues, etc.
A chance for Liberia, raw materials, natural resources, food production.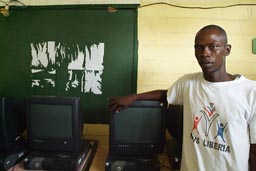 Aaron, computers, no electricity, net.
Time and economic growth that eventually bring jobs and benefits to the masses, like electricity, TV and mobile phones will heal the wounds and hatred and make the difference. Unemployment is with 85% one of the highest in the world. Most people only speak Liberian English (wiki), only a small elite speaks proper English, most teachers too only speak Liberian English, they can hardly understand me. I only can guess what they say to me.
But Liberia has a great chance: With raw material prices trading at all time highs Liberia's resources based economy has nearly all it takes to leap away from poverty. Liberia has been growing well above 8% (GDP mundi index) recently thanks to international aid and foreign direct investment returning to Liberia. All the big companies are in for the grab. Iron Ore prices are up in the sky. The dormant railway line is being rebuilt from the iron ore mines in the Nimba region to Buchanan. Rubber prices as an other example are up at 1200 USD the tonne from 300 mid 1990s. This is good business for some.
"Eat what you grow, grow what you eat". Goes a slogan in Liberia. Also in Sierra Leone president Koroma in the New Citizen Apr 2008: "Law of survival requires that we farm to feed ourselves". Self sufficiency as a goal. This corner of Africa with its amazing annual rainfall and hot climate really can do a lot better. Food prices in general around the world have risen for a long time due to increased consumption in China and India, diversion to biofuel plants in the US and elsewhere, rising petrol prices, climate change. These days there is simply not enough of it, not anymore, some countries have stopped exporting altogether.
Before the arrival of the world food crisis there was no point growing rice when it came in for free in the form of international aid. Also rice shall be an enormously profitable business at current prices for all the countries along the coast. They alone could nourish half of Africa. And the laggards are Guinea, Sierra Leone, Liberia. Is it time for an African Green Revolution? Aid now comes in form of money for the creation of new plantations, seeds, irrigation, roads all to help increase production.
Traveling Liberia and Sierra Leone I can see a good 200 times fire cleared land (just next to the roads I am traveling on), the scrub has been burnt, trunks of (palm) trees still stand high. In other places the wood is being removed from the ground, in some places I see the newly planted rice. Development is taking place right now.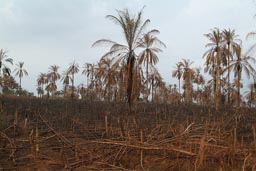 Cleared jungle.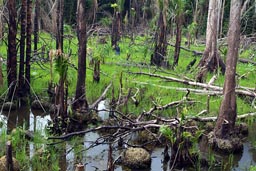 Newly planted rice.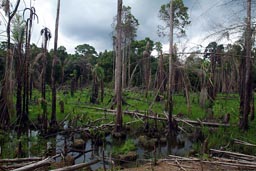 Newly planted rice.
To the optimist Africa has changed since the end of the cold war, since Europe has emerged as a power with moral and human rights consciousness, since Africans themselves demand change, since regional cooperation councils like, African Union, ECOWAS, Manu river union combined with democratically elected strong quality leadership do not allow for weak destabilizing civil war prone neighbors.
For the pessimist, Africa will never change. "Liberia will fall back into anarchy as soon as the UN leaves".
I am in the first camp.
P.S. 2008/07: Are we wrong on the above AU assessment? Zimbabwe's Mugabe walks free, is hardly criticised after stealing last month's presidential elections, many African leaders it seems are too afraid, haunted by there own tactics, "Don't point the finger, so others won't point the finger at you".
P.S. 2008/11: DR Congo falls back into shambles. The same grab the resources story repeats itself in Africa again and again. In the 18th century whole villages where burnt down for a pair of tusks. Ivory was luxury. Today it is petrol, diamonds, coltane etc. that fuel the killings. The film Blood Diamonds is about SL and Liberia, Blood Coltan a documentary about DRCongo/Ruanda.
Border Crossing. No concept of tourism. Liberia the complicated.
"You are going to be treated like a diplomat", tells me Michael, police man on the Sierra Leonean side of the Manu River Union Bridge border. "Africans are usually not treated like this?" and he replies "Well this is alright, you the white give us so much medication" and he talks of HIV/Aids, Malaria. Then I am being treated like a diplomat.
Liberia on the other side of the river is a different world. I have not even entered an immigration office, my name has already been registered in two books. A group of 2 young men and a woman are being interogated, "when were you last in your village?". Here anyone could be anyone, smuggler, child soldier. The man looks down, doesn't answer. I can move on to immigration office, police, customs office, health bureau.
When Sierra Leone is an example of how to do border business Liberia sure is not. Just on the border they enter my name in 10 books, and I have answered the same stupid 10 questions a minimum of 30 times. On my way to Monrovia my name would be put down in at least another 20 books, sometimes on a stretch of 100 meters 6 book entries, Each office crammed with 6 non uniformed officers, none says who he is. Some refuse to use their brains. They ask all the same questions, none listens to which question had already been asked by his colleagues, as if there's a competition going on.
While holding my passport in his hands, where do you come from? "Austria" "Ah Australia". Shortly before Monrovia when I would have to reply "NO" for the fiftieth time I tell them that frankly they're not doing their job correctly. One of the brainless goes I should go back to where I have came from. Others are willing to listen. But then precede as if I had not just complained about stupid questioning "which part in Monrovia do you go, how long?" as if I knew! "What is your mission?" "Can I see your mission papers?" "I am a tourist, I am not on a mission, I don't know where I will stay as I don't know Monrovia." Tourism is unheard of, the concept completely foreign to them.
On and on it goes as if I was a security threat. "What's the color of your car?" "Grey!" "Grey?" "Yes, think so!" "Are you sure?" Who gives a flying f... They are just wasting their time and my time. The 120 kms take me 5 hours. They're just following orders. And "A token for the officer?" I grab her hand slowly and firmly with my two hands and say it for the first time "I give you my friendship" and mean it and it works. Why haven't I come up with that before?
I know of Liberia's history, but there is room for improvement. And you could treat an obvious tourist differently than a presumed criminal. Most funny after pestering me with their questions they usually smile and say "Welcome, Liberia is a good country".
Mamba Point Hotel. The UN, expats, the new grab.
I drive over Warwick bridge, into downtown Monrovia, right to Mamba Point and to the hotel with the same name. Lebanese owned, sushi bar, terrace, wireless internet, cold Club Beer, from Monrovia Breweries Inc., best beer in Africa so-far. Evenings are crowded with UN, Worldbank, NGO and diplomatic staff, nearly all whites, all in khakis, all send more food back then they eat, in Africa? (Article on the Mamba Point in Washington Post.
I park in their car park, then eat feta cheese and later a pepper steak and drink beer, it is Saturday, there is a party going on the other side of the street towards the sea, an expats hangout on the weekend, I keep drinking there, later after 3 I start dancing, at 5 in the morning I crawl in the back of my Land Rover. Thus I managed to park in Mamba Point hotel, use their facilities all day, meet interesting people, but sleep cheaply in the Land Rover. Maybe after a week the Lebanese knew (they must have known) but accepted it.
Monday I realize that my pagerank has just decreased from 4 to 3. You should not emphasize too much on this anyway. But also Monrovia is where I do my first significant sale of photos, to South Africa, 2500 USD worth sold. Mamba Point always online internet is certainly helpful.
I stroll around downtown. Up the ally to the mosque with its blackened concrete walls, next pass the Achievers Arena, a Christian faith center, rhythmic sound spills out onto the street. A drinking hall further up, loud US pop, this is unification holiday. People line the streets, "what's up, brother" people greet in good American slang without moving a limp. I would eventually get used to this "What's up". All is pretty destroyed, dirty, run down, not much light at night in Monrovia, but frankly I expected a lot worse. International financial and technical aid has been at work for some time.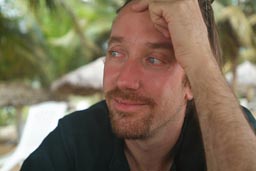 Chris.
The pool at Mamba Point, I once sneak in as Angela's husband when Chris is out meeting people. The pair I befriended in the hotel, Chris is a filmmaker, he was born in Liberia and is back the first time in his life. The pool is huge, blue, noone else is here, the sea rumbles powerfully, the beautiful sandy beach and the ocean behind barbed wire is not recommended for swimming! Sewers empty directly onto the beach. Monrovia has a long way to go.
Joelle invites us to an open day to the EC-delegation house. Joelle is Congolese, lives in Belgium, now assistant to the head of the EC-delegation to Liberia, Jeremy, a Land Rover enthusiast. And Jeremy puts me in touch with "Little Roland", Austrian who works for UNMIL.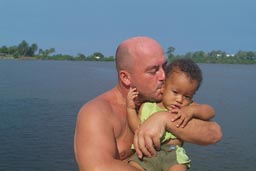 Roland, Austrian and son Niki.
After a week I leave the Mamba Point, but first to the fishing club, Marlin Corner where I meet Roland, also Land Rover enthusiast, works as a helicopter fueling specialist for UNMIL. Roland has known Liberia for a few years and is happy to give me directions. I accompany Chris and Angela to Cece beach. Monrovia's surrounding is so beautiful. The country has so much potential. Sea, beach, surf, green hinterland. Sliding Liberia.
www.thisfabtrek.com > journey > africa > sierra-leone-liberia > 20080517-monrovia