www.thisfabtrek.com > journey > africa > ghana-togo-benin
Church, and beach, and repairs.
Map of Ghana, Togo and Benin.
Ghanaian, Togolese and Beninese Highlights.
Pictures link to stories!

Pipona, Apr 2009.

Lake Volta, children fetch water, Apr 2009.

Beaches and Palms and sunsets, Mar 2009.

Palm Oil Cooking, Mar 2009.

Elmina Castle, Mar 2009.
Of Fufu and Palava and Banku.
Beers in Ghana
There is really just Star Beer in Ghana, cold filtered premium quality whatever, nice when cold in 65cl bottles. Gulder is more like lemonade, Club very often comes without bubbles and Stone usually not avail. The Stouts, Castle and Guinesse, all in bottles.
Beers in Togo
The old Flag and Castel are back. Ecu Bavaria, pils BB 5.1%, Awooyo 4.7%, brown/golden, slightly bitter no bubbles.
Beers in Benin
La Beninoise

Highlights. Images are linked to the story behind.
Beach Grand-Popo, Apr2009.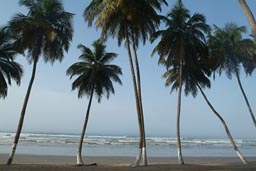 Slavery and beaches, Mar2009.
www.thisfabtrek.com > journey > africa > ghana-togo-benin