www.thisfabtrek.com > journey > europe > england > 20050211-london
I went to find out.
I went to Bludenz in October to fall in love. Heidi quit her former life and came travelling with me.
4 month later Heidi and I decide to go separate ways again. She wants to see Australia, find herself.
I will travel to Africa, follow my old plan, my plan. Heidi has her own ideas on her mind and needs to follow those, hers not mine.
To leave your conventional live means to break out, to free your mind. To take on someone else's ideas is the opposite. It took me/us some time to realise.
We were quite a fit in terms of that we both have the desire to travel, travel unconventionally. But the time we travelled together laid bare, the obvious, that living together in a bus 24 hours a day, 7 days a week requires just a bit more, maybe a lot more...
So I am back on my own, back in London. Heidi is back in London as well and we meet regularly. We manage not to fight, actually we are about to become really good friends.

6x6 conversion delayed, trapped in mutants' town.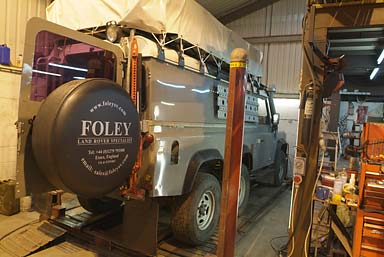 Landy is still with Foley's.
This is mid February. Spring takes hold of England at this time of the year. Temperatures are around 10°C sometimes more, so quite pleasant. Crocuses start blossoming everywhere and little green buds begin decorating the otherwise still barren trees and bushes.
The Land Rover has been worked on at Foley's. Nearly everything is done. Extra tanks, roll-bar, all the mounts for high-lift jack and sand ladders, etc. I am ready to go.
Only a delay in the shipment of the 6x6 differential makes me stay here for the moment. (Pictures below show the fitting of the 6x6 unit).
So I wait while I am stuck.
Stuck in the oddest place on the planet. Harlow/Essex. Heidi and I named its town centre mutants' town.
Harlow is the center of an indutrialised area. Lots of employment and cheap housing. Life centres around a big ugly shopping centre.
An unreal world, only accessible by car. Though not for my truck as it is too high.
But people seem to enjoy it, don't mind having their money taken away by the ASDA's and Gap's of this world.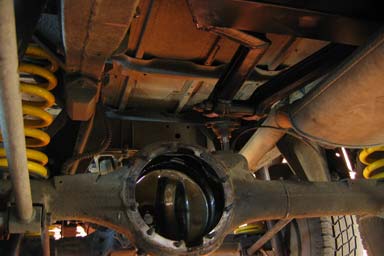 Second axle open differential.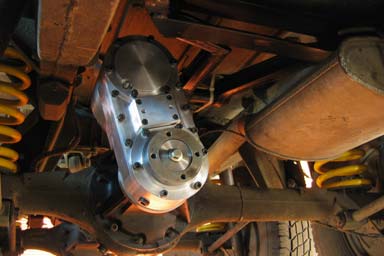 Foley's 6x6 transfer box.

Back in London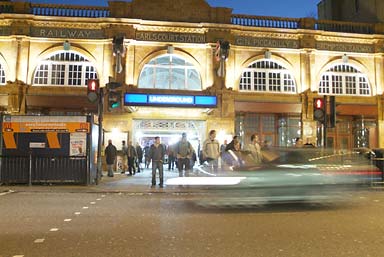 Earls Court Station.
The weekend 12/13 Feb I am spending in London Bayswater. I meet Simon down in Fulham, I try my new camera, the S3. Saturday I am offered my first ever photographer's job, an invitation to be a wedding photographer. No thanks. But it shows that just swinging a pro-camera in a pub carries the chance of making money.
Monday 14th to Friday 18th back in Roydon and Harlow. I play with the Land Rover, organising stuff, fix minor issues. Heidi joins me out here for a few days.
Friday 18th of Feb Heidi and I meet Jon and girlfriend Gerry again. Jon, I had met when walking the West Highland Way back in August 2004. An excellent dinner, meatballs and spaghetti plus 5 bottles of red in their flat in Watford make a very pleasant evening.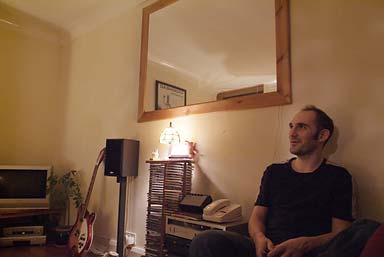 Jon in his natural habitat.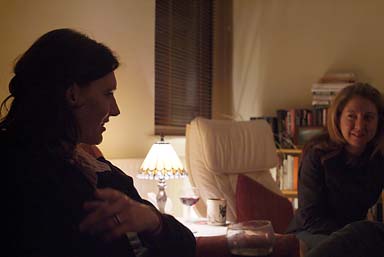 Heidi in talk with Gerry.
Heidi and I meet Michael for lunch on Saturday. Michael now lives in Chiswick, London. We have lunch nearby at the Bell&Cow pub at the River Thames.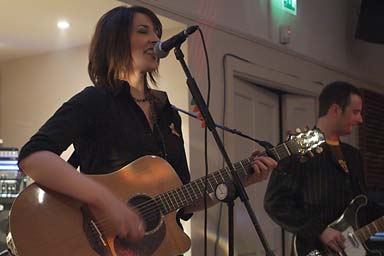 Jo Stevens.
Saturday evening I go and see Jo Stevens's band (her myspaces) were Jon's the guitarist. They're playing on the occasion of the opening of The Hill, a club in Muswell Hill in North London. Jo Stevens, singer and songwriter of Scottish origin has recorded a couple of CDs. The band she performed with at The Hill was formerly known as Aviation Blonde, together they recorded a CD back in 1999.
A nice chap, another guitarist, another friend of Jon's I meet in The Hill. His name is Higgs. He has been around for years, playing bass guitar, in various bands with and without Jon.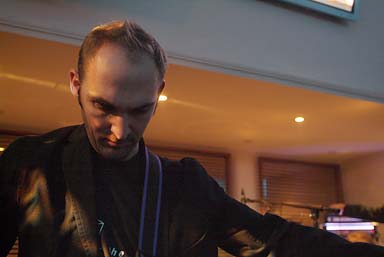 Jon on the Hill.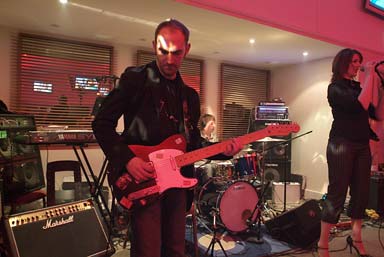 Jon and JO.
But winter has returned with temperatures near Zero and some snow and rain. Sleeping in the bus turns a bit uncomfortable. And I am longing to get out of here, get to warmer parts of this planet. How many more days or is it still weeks?
When I write this, I am inside the Land Rover, in Roydon. Only many litres of hot tea keep me warm. The computer these days drains from the second battery since I had a split-charge-battery system installed.
Sometimes I am even online, through some wifi-network in one of the houses near-by. I have my music, hot tea and am connected to the world. What else can I ask for? I think I'd just like the 6x6 differential to be ready so I could finally get out of here.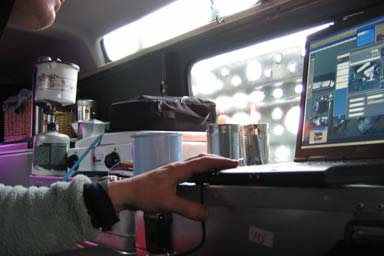 Connented insider the LR ...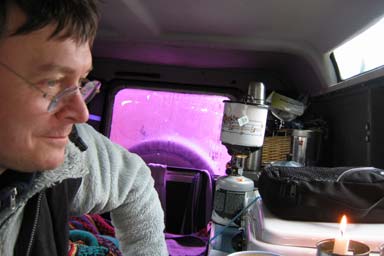 ... I am sending these shots out.
www.thisfabtrek.com > journey > europe > england > 20050211-london