www.thisfabtrek.com > land-rover > repairs
share
Mechanics in Africa I consulted with success.
Zagora, Morocco.
garage Chez Ben Karoum Mohamed, a bit famous with 4x4 enthusiasts
Av Atlas Zaouite Elbaraka 45900 Zagora
+212 70 02 00 59
GPS N 30°19.479, W 002°50.250
Casablanca, Morocco
Said at Garage Halif, 36, rue de Dax-Roches Noire,
Said loves Land Rovers
Tel: +212 22 40 62 21
Bamako, Mali
Issa Diara.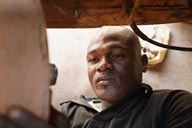 4x4 Mechanic.
I would always call back Issa Diarra,
+223 7 64 91 941
Over 2 years he has done extensive repairs to my Land Rover. He also knows other 4x4s well.
Accra, Ghana
Ian Webster, English from Yorkshire, +233 244 2 777 22, has many capable people at hand, short motice, just you need be able to deal with Ian.

Comments
Postings by readers don't necessarily represent my own views. I delete what I deem inappropriate. So be fair, don't swear. Discuss photography, travels, places, politics, whatever faintly touches the subject of the page.
www.thisfabtrek.com > land-rover > repairs